Preparing Your Children for Adulthood
A parent's guide to dealing with the unique challenges of life phase transitions for children with Fragile x syndrome.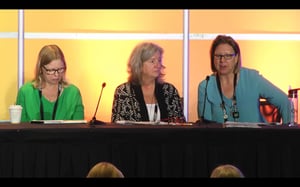 Sign up (it's free!) to view this important video from leading experts, and also receive:
Download: "My Transition Advice"
Download: "Preparing Your Elementary/Middle-School-Aged Child for Adulthood"
Access to video at any time.
Preparing any child for adolescence and adulthood is a process that begins early in life.
Parents of children with fragile X syndrome often encounter a variety of unique issues as their loved one transitions to adolescence and then to adulthood. These include:
the continuing impact of hyperarousal on behavior.

the need to plan for life beyond high school.

the importance of building and educating a support team in the community.
This multidisciplinary panel examines these challenges from a variety of perspectives and offer suggestions for dealing with them, with an emphasis on the importance of early planning and skill development.
This presentation is recommended for parents of elementary and middle school children with Fragile X syndrome.
Presented by
Sarah Scharfenaker, co-founder of Developmental FX
Tracy Murnan Stackhouse, MA, OTR, co-founder of the Developmental & Fragile X Resource Centre (Developmental FX) in Denver
Gail A. Spiridigliozzi, PhD, clinical child psychologist at the Durham Child Development and Behavioral Health Clinic, Duke University Medical Center in Durham, North Carolina
Get the Video!